Cotton sarees

provide a major part in the country's sari production. It shows the demand for cotton saris in the country and even around the globe. The best and purest form of cotton fibers are found in Indian.
Among them cotton from Kanchi and its products are famous and well reputed. The Kanchi saris are named after its place Kanchipuram, Tamil Nadu state, in India, which was the historical capital of the pallavs. These sarees are available in both silk and cotton fabric. A huge range and wide variety of saris extracted from different breeds of cotton are available.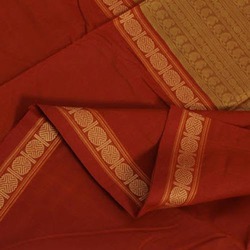 Kanchi cotton saris have an enviable reputation of texture, luster, durability and finish. Kanchi saris weaved out from cotton exhibit the tastes and traditions of the people like many artistic temples, printings and mixed colors and dyes. A single colored garment with multiple stripes and borders is seen quite often. The embroidery and zari thread work makes the sari elegant.
Kanchi cotton saris are designed with check patterns, attractive color combinations, appealing motifs, elegant borders and pallus.
Kanchi cotton sarees
are designed with plain body, checks, stripes, floral block print motifs, thread embroidery bootis with floral zari, printed, embroidery, temple style borders and beautiful woven elegant pallus, suitable for traditional occasions, festivals, corporate and casual wear.
In addition to this we can find many additional decorations to the fabric done with many minute particles. By considering everything the Kanchi cotton sarees are light weight, soft, airy and very comfortable to handle.
The Kanchi cotton saris can be worn in corporate and casual meetings. The traditional finish to these saris can makes it more apt to temples and traditional occasions. Kanchi cotton sarees are best in seasonal occasions like summer.
Unnatisilks have a wide collection of Kanchi cotton saris with attractive designs, unique patterns and pleasant colors.
Unnati silks
, the largest ethnic online Indian shop offers exquisite designer Kanchi cotton
saris
for online sale. Our Online shopping store has the widest range of rich Indian Sarees and Salwar kameez. At Unnati Silks, you can buy unique, exclusive collection at affordable price.
Unnati has a unique range of fusion saris and salwar kameez where trending designs, patterns and colors have been incorporated in traditional styles of fabric manufacturers, and available in retail and wholesale.
You can purchase online at Unnati silks and the products will be dispatched within 24 working hours of placing the order. We have
free shipping
and
Cash on Delivery (COD)
facility for Hyderabad, Mumbai, Bangalore, Kolkata, Chennai, Ernakulum, Delhi, Chandigarh, Lucknow, Patna, Jaipur and many other Indian cities. We also do
Worldwide express shipping
to countries like Australia, United States Of America(USA), United Kingdom (UK), United Arab Emirates(UAE), Australia, United States of America (USA), Adelaide, Black Town, Brisbane, Gold coast, Melbourne, Perth, Sydney, Alabama, Arizona, California, Connecticut, Florida, Georgia, Illinois, Maryland, Massachusetts, Michigan, New Jersey, New York, North Carolina, Ohio, Oregon, Pennsylvania, Texas, Virginia, Washington, Barking, Birmingham, Leices
ter, London, Manchester, Canada, France, Germany, Indonesia, Kuwait, Malaysia, Mauritius, New Zealand, Oman, Pakistan, Singapore, South Africa, South America, Sri Lanka and Sweden.
UNNATI SILK PRINTS PVT. LTD, #3-4-360, Vajra Complex, General Bazar (Tobacco Bazar), M.G.Road, Hyderabad-500003.AP,India. 040-64555251 or 97000 57744.